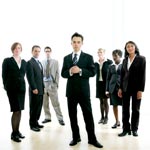 We, at Corporate Placement & Liaisoning Services (CPLS), are well-recognized as a prominent Placement Agency in India, operating from our registered office in Pune and Branch Office in Mumbai since 2009.

Our aim is to see that quality manpower is constructively and appropriately channelized. In the process of achieving this aim, the talented and high-caliber job seekers are helped to build their own career and our clients find employees according to their specific requirements.

CPLS is known for its highly experienced & well trained staff specialized in devising recruitment strategies with stringent benchmarks in evaluating, selecting & prominently identifying & sourcing the right candidates. All this is done through a defined process and from a highly filtered databank. Manpower requirements are met with ease, speed and high standards of professionalism. Our huge list of clientele shows the loyalty and faith of our clients in our Services.

We provide assistance in Talent Acquisition across all verticals and for diverse industries. Our expertise in this field is a result of having access to a comprehensive database of candidates and companies alike to ensure a two-way matching process. Besides, our diligent team has a keen understanding of the modern-day manpower needs and works round the clock to provide the best solutions even in the face of changing market trends.

CPLS has a separate Wing with a dedicated team handling Industrial Liaisoning Services. This Wing mainly caters its services to the manufacturing industries. It handles all the activities related to obtaining approvals / licenses / permissions from any Government / Semi-Government/ Statutory Bodies required by an Industry. From the stage of acquisition of land till putting the plant in full operation, we make the life of any Industrialist "hassle-free".


Our Mission:

We aim to provide the highest standards of quality service and to become an expected benchmark for others in the domain of Placement & Liaisoning Services and to remain a preferred choice of our clients and customers for their requirements in these areas.


Our Customers:

We have an honor to be in the panel of various reputed MNCs and National Companies, whom we are assisting in Talent Acquisition process and Liaisoning Services. These include all types of Engineering & Process Industries, Pharmaceutical, Auto/Auto Ancillary, FMCG, Consumer Durable, Food Processing, etc.


Our Visionary:

We work under the dynamic leadership of Mr VP Jadhav, who not only has experience but also has a strong business acumen enabling us to reach new heights in a short span of time and to mark a special niche in the Recruitment industry.